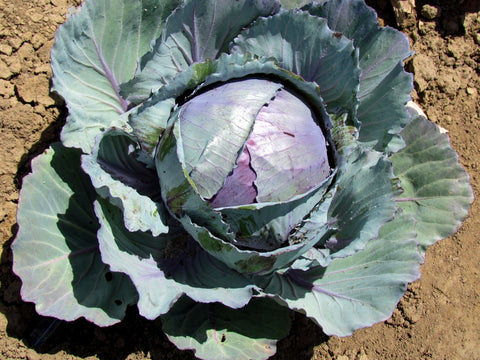 Cabbage Red Acre Seeds - OG
---
---
ORGANIC AND OPEN POLLINATED SEEDS
(Brassica oleracea)
Grows best in Winter
This variety produces beautiful red/purple cabbage heads which can get to about 5-6" in size (if the weather is cool enough). The crisp, tender leaves will add colour and texture to your table whether eaten raw or stir fried.
The plants are compact and short stemmed and mature in 80 to 90 days. Likes bright, slightly shaded conditions for growing and needs to be watered well.
Seeds should be sown in a nursery (around October) and transplanted into the soil in approximately 21-25 days. Heads are ready to harvest after 70 days in mild to cool weather. Ideally grown in cooler weather (requires cooler weather to head) and sunny, well drained conditions.
Estimated seed count
~ 100-110 seeds for Container Garden Pack (Regular)
~ 200-220 seeds for Outdoor Garden Pack (Large)

GROWING NOTES:
Germination:  4-5 days
Sun/Shade: Bright, semi-shaded
Plant spacing: Approx. 18 to 20 inches apart
Days to maturity: 80-90 Days
Succession planting: Sow cabbage every 2 weeks for continued produce through the cool season.
---
We Also Recommend
---